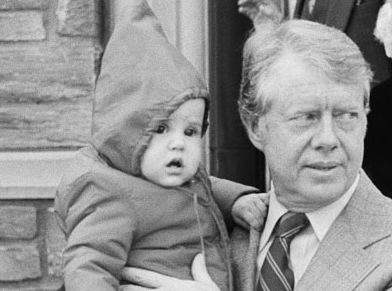 The Mitt Chronicles: Never Make It Personal If Your Don't Have To
19 September 2012
2 Comments
Republican presidential candidate, Mitt Romney is a case study of how leaders lead, or don't, when speaking on the record.
Every public outing is an opportunity to make friends—or enemies. To avoid the latter, resist cheap shots, put downs and self-serving comparisons while evoking the names of others.
Romney was waving a red flag with every sneering reference he made about former democratic president, Jimmy Carter. He was using Carter to take aim at Barack Obama, who Romney wants badly to make another one-term president. It was mean-spirited and unnecessary. Carter has spent decades helping others and has done nothing to hurt Romney's chances to capture the White House.
Jimmy Carter may know how to turn the other check. The other Jimmy Carter, his grandson (in the president's arms above), tracked down the infamous "47 percent" video and turned it over to Mother Jones magazine. The rest as they say is history – literally.
Posted by Bodine Williams
The Mitt Chronicle, inspired by a 1978 essay by Louis R. Pondy, "Leadership is a Language Game."