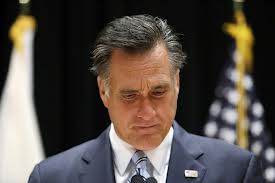 Romney's Confidence Game
9 December 2011
No Comment
GOP presidential candidate Mitt Romney's rare sit-down interview with  Bret Baier's on ( November 29, 2011) was a disaster. Not the explosive kind that blows up and then blows over, but the slow moving kind that smolders.
The 15-minute outing grabbed the attention of columnists and pundits who described the former Massachusetts Governor as "testy," "thin-skinned," "repressed," "prickly," " irritated," "brittle." Harsh words—and a reminder to all—that on the record interviews decode behavior.
Romney was overly-scripted yet unprepared.  In fact, his was a textbook performance of interview don't. On three occasions when asked questions he didn't like, Romney directed the reporter to his 2010 book, No Apology: A Case For American Greatness.  In other words, "I've said it before and better." Romney missed the point of the exercise. Interviews are conducted without the benefit of a publisher.
Faced with the inevitable question about his contradictory positions (or flip flops), Romney rejected the evidence with, "Well Bret, your list is just not accurate."  His denial invited more of the same. Cornered, Romney went negative, saying, "Well, I'm glad the Democratic ads are breaking through…"  Was he mocking Baier for doing his homework? Now he was blowing the leadership test along with the interview.
Asked if the Massachusetts healthcare bill he passed was a model for President Obama's legislation, Romney replied, "I don't know how many times I am going to have to answer." He laughed (uncomfortably) and then added, "All right, let's do it again."  Extraordinary behavior considering there was a television camera in the room.
Speaking louder and faster in that please-let-this-be-over mode, Romney was a study in contrast. He used words to describe himself as a presidential candidate with vision but he hardly defined himself as one with this performance.
By the end, he was back on the campaign trail, clinging to slogans and talking points as the opportunity slipped away.  He spoke of a new "American Century," a phrase which made sense when it was coined by Time magazine founder Henry Luce in 1946. Romney's version (It won't be "Global International Century" or an "Asian Century.") sounded like blurb rather than a blueprint.
.com/watch?v=vBY9Ia6QaPg